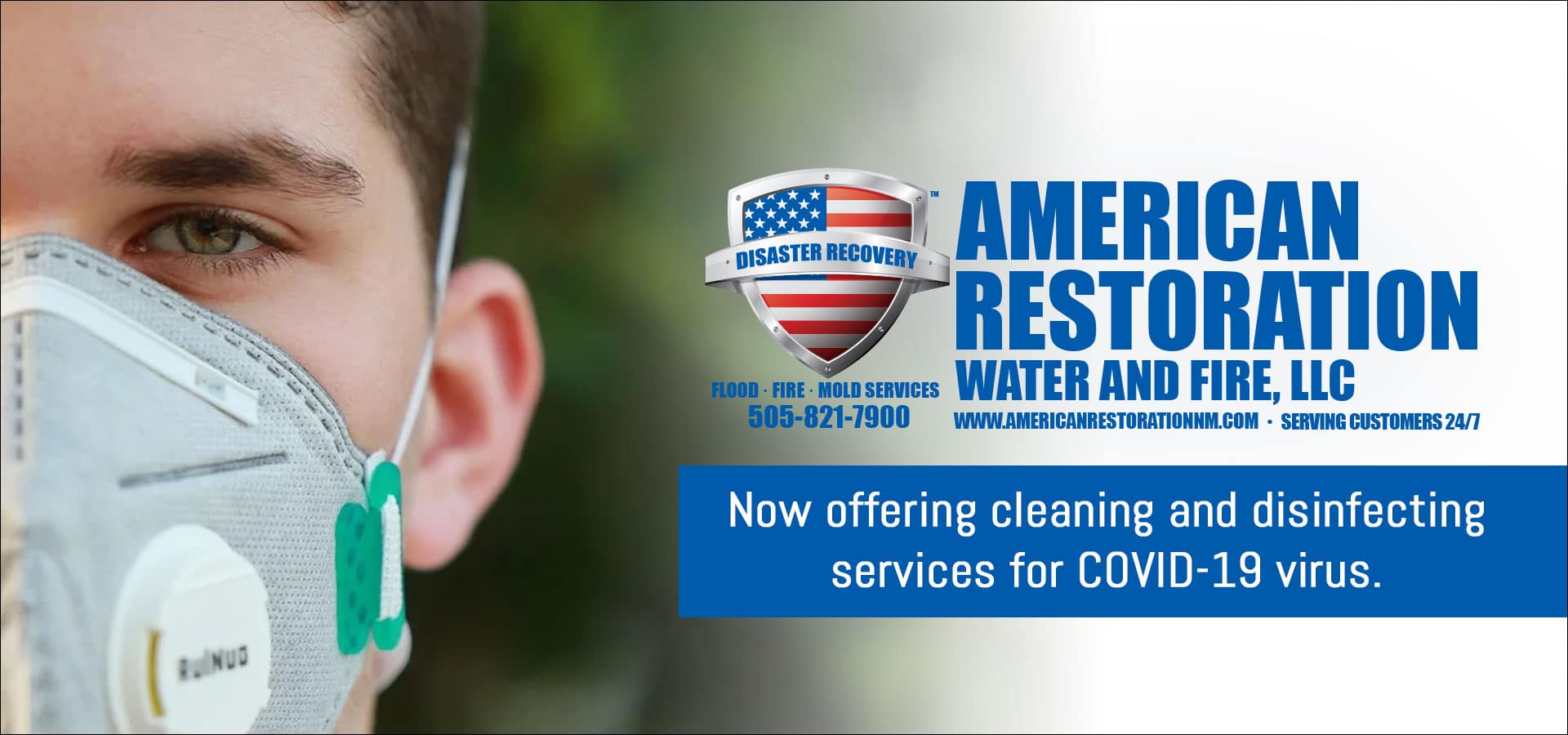 American Restoration Water and Fire, LLC is now offering covid-19 cleanup and disinfecting services for our customers who are concerned about the coronavirus (COVID-19) virus. Rest assured that our services related to COVID-19 are in line with the Centers of Disease Control (CDC) and the Institute of Inspection Cleaning and Restoration Certification (IICRC) regulations.
Recently, the CDC has released data on two specific chemicals that have been tested and proven effective against the COVID-19 virus. Although some of these chemicals may be available to the public, it's important to understand the proper Personal Protective Equipment (PPE) and safety protocols we implement when disinfecting your home or office.
There are many methods that can be used under normal circumstances; however, there are several factors to consider when dealing with COVID-19 specifically. Commonly used machines are Electrostatic Sprayers or Ultra Low Volume (ULV) cold foggers. Unfortunately, dwell times (the amount of time a surface is required to stay wet) are not yet defined by the CDC or the IICRC. Understanding the severity and strength of this virus, and how to address it, is critical when developing a disinfecting plan.
Our technicians are trained and experienced in evaluating unique and evolving work environments for your protection. Each property needs to be disinfected differently dependent upon the setting, density, and types of surfaces.
When we arrive on the scene, it is imperative to act immediately on the critical touchpoints in the structure. Critical touch points are typically under the 8' point in the structure. We address many areas that are commonly skipped during a standard cleaning and can be counterproductive to the goal. Our priority is to ensure all surfaces in your structure are addressed and thoroughly cleaned when our disinfecting plan is created.
At American Restoration Water and Fire, LLC we understand the importance of delivering critical services around the clock to make sure our customers and clients are safe and secure. Our business remains fully operational during this time, 24 hours a day, 7 days a week. Give us a call at 505-206-5277 and we will be happy to answer any questions you may have. It is important to do our part in stopping the spread of COVID-19.
Contact Us
"*" indicates required fields